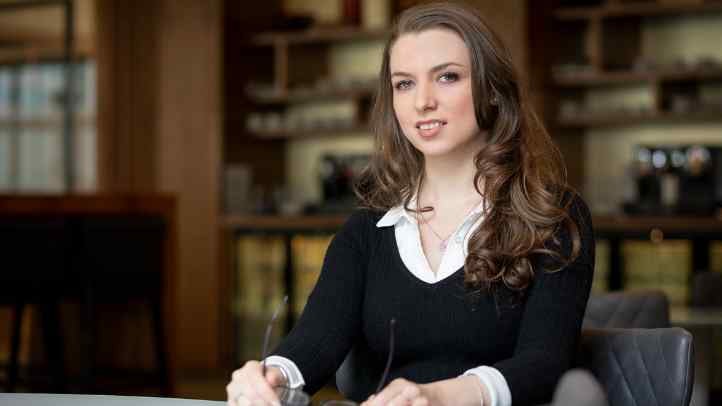 HC Group is a proud sponsor of Level Up, a program assisting women recruitment executives in advancing their career. We speak to Rina Kaciu, Senior Associate at HC Group, about her experience on the program.
According to a study by Women in Recruitment, almost a third (30%) of recruitment firms have less than 5% women leaders at board level. At HC Group, we are committed to leveling the playing field for women recruitment executives. That is why we are proud to be a founding sponsor of the Level Up program, which brings together talented women working in the recruitment sector and equips them with the tools and support they need to advance their career.
The bespoke program is built to encourage participants to come together to learn, share their experiences, celebrate wins and hold each other accountable, unlocking opportunities for them to confidently and successfully step up and become the industry's future leaders.
The five-month program consists of three interactive workshops that build confidence, presence, resilience and a personal vision for success, along with monthly accountability check-ins with a buddy. The program has been designed and put together by executive coach, Olivia Read, HC Group and FIFTEEN WEST.
HC Insider speaks to Rina Kaciu, Senior Associate at HC Group, to find out what she learned after completing the program earlier this year.
HC Insider: Please tell us about your role at HC Group.
Rina Kaciu: I'm based in London, and I head up the European Metals and Minerals practice. I work on commercial hires; everything from C-suite, trading and supply individuals, business development, analytics and operations. I have also covered other areas, including the US region and I recently spent time in Singapore covering the Asia Pacific region.
HC Insider: Why did you sign up for the Level Up program?
RK: I was put forward for the program by our EMEA Managing Partner and I had also heard about the program from two colleagues at HC Group. They told me it was a good opportunity to find a buddy within our network, someone that didn't work at our company but works in a similar job/industry. Your buddy is also a woman, so it's a great opportunity to learn from someone that has gone through or is going through the same journey as you.
HC Insider: How did the buddy check-ins fit in to your work schedule? Were they helpful?
RK: The program was spread out over a five-month period and there was a mixture of face-to-face and virtual sessions. In between these sessions, I blocked out time in my calendar to speak to my buddy and these meetings would last about an hour. They were virtual meetings, so they fit well into my schedule. I'm still in contact with my buddy now, even though I've completed the program. Every now and then we touch base and find out how things are going. For example, my buddy knew I was going to Singapore, so she did check in on me. It was nice to talk about the challenges I'm facing in my role and get a different perspective. It's beneficial to have that support when you want to talk about your frustrations and get a second opinion on the best way to handle a situation.
HC Insider: How do you think the program will help you to navigate the next stage of your career?
RK: There were a few 'eureka' moments on the program that shifted my mindset. In one session, I learned that men apply for roles if they meet a certain percentage of the job criteria. Women on the other hand will only apply if they think they can carry out all aspects of the job. If you look at the top jobs across the industries, you see mostly men in those positions and the Level Up program forces you to question why that is. Is it confidence and changing our mindset? I learned that confidence should radiate through our work, and I shouldn't doubt myself. I learned that I need to back myself. Just recently, the Director for my practice moved on from the company and suddenly I found myself taking on all the client meetings. This program came at a good time for me because it gave me the confidence to go to these client meetings.
HC Insider: Would you recommend the program to other women working in recruitment?
RK: I would recommend this program. It is quite time intensive, especially for people in our profession where blocking out half a day can be tricky, but it is worth it for the lessons you learn. The program breaks down for you what it takes to be a good leader, and that knowledge is worth taking the time out of your schedule. It was a really good experience. You get to be around people who are going through the same doubts as you and you get to unpack them together. You get to build relationships and I genuinely feel that I can reach out to any one of those individuals that I met on the program.
Level Up is back with its next program for talented women working in the recruitment sector.
If you are a female recruiter looking for your own network of ambitious, collaborative and high achieving individuals to support you in your career and personal development, this is for you.
If you'd like to book a spot for yourself or someone else in your team, please contact hcinsider@hcgroup.global by Friday 7th October.
The 5 month program will begin on Thursday 13th October, with the following two sessions taking place on Thursday 8th December and Thursday 9th February.