Ying Ying Lim, Managing Director at Cargill Singapore Ocean Transportation (OT) business unit can be described as a pioneer in the commodity sector in Asia. She was one of the first female Singaporeans working for major international and regional commodity brands like France's commodity trader Louis Dreyfus, the international trading arm of China's Amer Group, and now the global food company Cargill. In addition to experiencing diverse working cultures, Ying Ying Lim covered various products, from several types of oilseeds, grains, rice and sugar to ferrous & non-ferrous metals. She is now leading Cargill's freight division in APAC, after accumulating a wealth of experience in general management and trading.
In this HC Insider interview with Premesha McDonald, Portfolio Director at HC Group, Ying Ying Lim explains why a diverse workforce in commodities is vital, what Cargill is doing about it, and advises younger talent on how to carve their own, bespoke career path.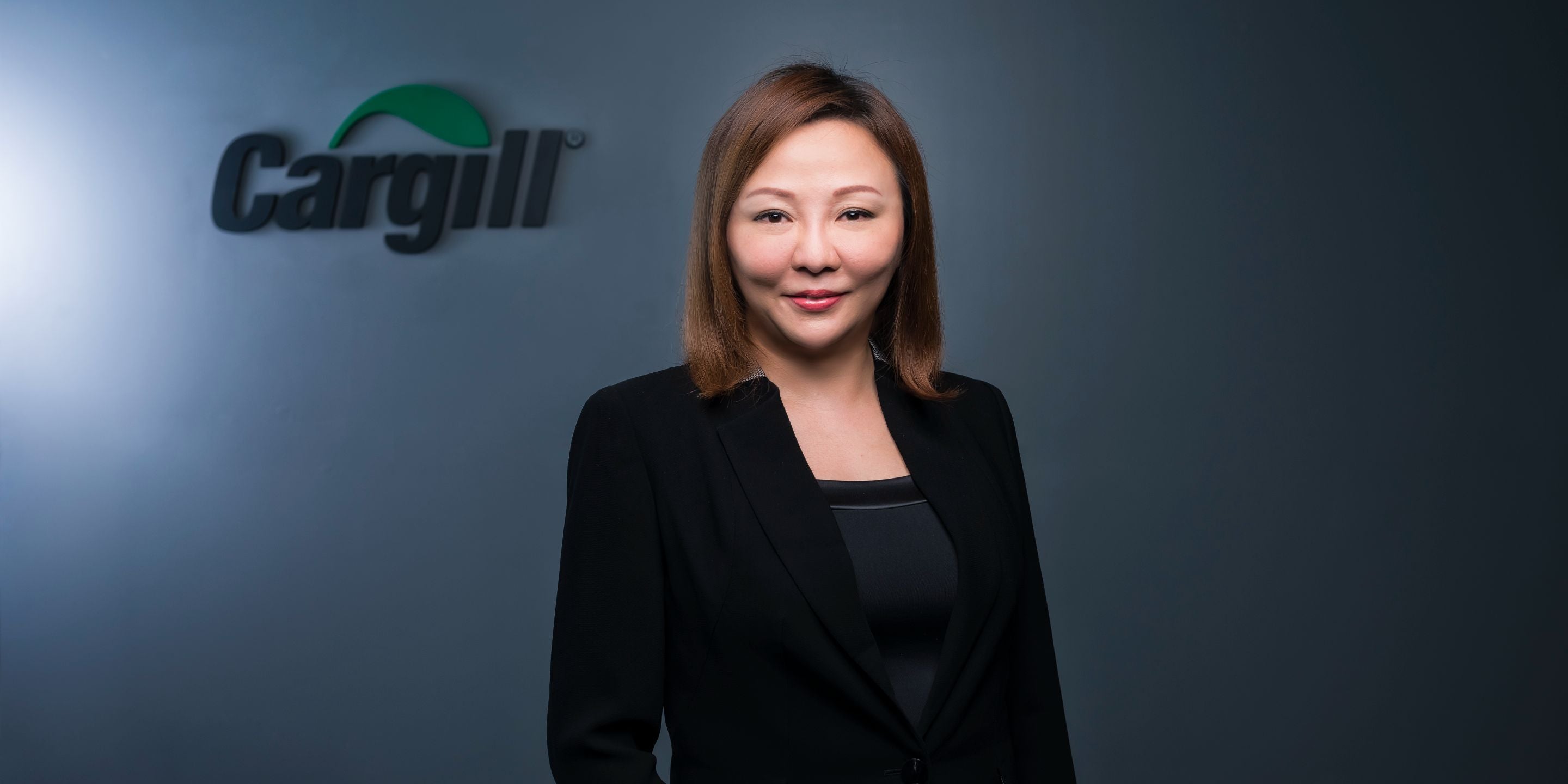 Premesha McDonald: Based on your personal experience, what should the younger generation focus on to grow and have a fulfilling career in commodities?
Ying Ying Lim: The concept that trading jobs were the core, high-flyer roles in commodity firms has eroded because of the market transparency resulting from the rapid digital transformation over the past decade. Information arbitrage is no longer the trump card to trade. In addition, the need to decarbonize our footprints and live up to sustainability commitments means new roles such as those in digital transformation, strategy, green projects, are gaining popularity. Young talent is in a sweet spot with their tech savviness advantage today. To build a long-term and fulfilling career in commodities, they need to take bolder steps by seizing opportunities to switch between fields and scopes laterally when they are at the early stage of their career.
Premesha McDonald: What advice would you give to younger people who are looking to switch roles or products in the context of the energy transition and increasingly fragmented markets?
Ying Ying Lim: In commodities, your career progression tends to be very linear. If you are covering one product, the skillset that you develop over time may allow you to become eventually a regional or global lead of the product. But in the initial 10 to 15 years of my career, I managed to find opportunities to switch products while the company still valued me, even without bringing the network of contacts. I took that step when I was with French company Louis Dreyfus who allowed me to switch from agricultural to metal products.
It's best to do so in the first 10 to 15 years of your career, because following that, the only different path one can take is a move to management. This is when the chairman of China's Amer Group approached me and I seized the opportunity. Even then, the skills that you need will be very different, like communication, leadership skills and driving a strategy.
Going into such a role with no skills other than trading and merchandizing was a big jump. I had to create a company from scratch, setting up human resources, finance, accounting, treasury, etc. It was a steep learning curve. Those six years made me a different person.
I would give the advice to junior talent to take some risks in their career path, especially when you're still young and mobility is a lot easier than when you get to a certain level of seniority.
Premesha McDonald: In the metals sector, there aren't many Asian and Singaporean females that came through the ranks like you did, who had your experience and is part of the international trading community. What do you owe your success to?
Ying Ying Lim: Being a Generation X Singaporean female, we were blessed by our progressive government in driving gender equality in education. The bilingual educational requirements in Singapore have elevated the Singapore workforce to serve the international markets with fluency in English.
That said, aside from the gender equality in education in Singapore, in the late 90s, I was a female and an Asian in a western, male dominated industry especially in a trading role where the ratio of female was probably less than 1:20. I had to show strong resilience and be able to stand up for myself against intentional and unintentional bullying both internally and with external stakeholders. I had to stay true to my principles, refuse biased norms and stereotypes and dare to speak up when I didn't feel comfortable in these situations. This helped me gain respect from colleagues and clients.
Premesha McDonald: What does diversity mean to you? And I don't mean just gender diversity. Why is it important according to you? What should it look like from a talent and business point of view?
Ying Ying Lim: It has been established that in a diverse team, people from different industry and educational backgrounds are able to come up with different ideas because they have seen and experienced different things. With life taking on a faster pace, we need to redefine ourselves in our roles and in our businesses. Encouraging new ideas is the best way to look at our world today. Who would have ever thought Uber could work? With AirBnB, you don't need to even own an apartment, you can jump from place to place. Those were new ideas which disrupted their respective industries.
In the workplace, diversity is a value that needs to be upheld together with equitable processes and through practicing inclusion in words and action. From a human resource perspective, it can also mean stepping out of a comfort zone by identifying talents with background who are not directly from the same field of expertise that is specific to the role as that often injects fresh ideas and learnings to different industries.
My journey into Cargill is a relatable example. My boss, Jan Dieleman, the Cargill Ocean Transportation president, took a chance to hire me even though I barely had any freight experience. Instead, he looked at my leadership and management skills, commercial acumen and knowledge in related industries that the business served and my significant experience in the APAC region. I can't speak on behalf of the industry on whether we are there yet today in terms of diversity because it boils down to companies and their leaders' conscious effort to take a risk in creating diversity.
Premesha McDonald: What have you learned on the reality of gender diversity?
Ying Ying Lim: It is a general conviction that a balanced gender ratio is beneficial to any company if they can achieve it in their leadership team. In Cargill, we have programmes that support female talent in their journey to a leadership role. But the reality is, some women may choose to take a career break during their childbearing and childcaring phases. In many companies, such breaks could be seen as derailing female employees from their intended career pathway over time. As a leader, what I can do is remind other leaders around me that it is important to do what is best for the person and be supportive of their decisions.
Premesha McDonald: We are still tapping into a small pool of talent. Are there typical personality traits you are after to address the lack of diversity and because traders' roles are moving away from the 'high-flyer' profile?
Ying Ying Lim: I try not to generalize things and build stereotypes. If we talk about talent, it's all about the right fit and opportunity.
If we are searching in a talent pool of at least 5 to 15 years of experience, we are unlikely to find the diversity that the world craves for. But we're still hiring outside of the usual space for the middle manager roles. We consciously try to remind ourselves to search the market a bit deeper and get a balance of at least a 50:50 or 40:60 in terms of male and female applicants. Then from this group of talent, we look at who is best for the job and try to find a balance in their background and skillset.
With regards to younger talent, we can engineer things a bit more. We need to review other spaces a lot more because today we are not just hiring traders. We are hiring people who are good at digital projects, operations, analytics, at crunching numbers and with computer skills. The best trader I ever hired had a master's in music from Cambridge.
Premesha McDonald: What is Cargill Ocean Transportation specifically doing to address diversity and inclusion?
Ying Ying Lim: The maritime industry has a very low proportion of females (around 2%), especially in senior and leadership roles. Cargill has been working to improve the gender diversity of its workforce across its ocean transportation business since 2014. As of April 2022, the percentage of females in leadership positions within Cargill's Ocean Transportation was 23%. We know more can be done. In September 2021, we hired a new cohort for our Ocean Transportation Academy trainee programme. Through a fair and equitable interview process, our new cohort consisted of 75% female. At the end of 2021, we hired three female traders to be part of our freight trading teams. Outside of our organization, we are active members of industry associations such as WISTA (Women's International Shipping & Trading Association).
Premesha McDonald: What can be done to attract more diverse talent at the graduate and entrance levels so they feel welcome to the industry?
Ying Ying Lim: We set up an OT Trainee academy to hire from local universities in our various offices in Geneva, Amsterdam, Singapore and Miami. We achieved a gender balance in our hiring ratio and expanded our search in all academic fields including engineering and finance. Our interviewer panels consist of employees of different genders and profession as that forms a fairer assessment of talent.
Premesha McDonald: How is Cargill developing its talent internally to retain it? What role do you play in this personally and as the MD in Asia?
Ying Ying Lim: Our strong corporate values serve as a natural attraction to external talent. For fresh talents, our HR team in Singapore engages with all the local units for graduates and post-graduate talent. In our OT business, we rotate our rising talents across desks, functions and projects every 2 to 3 years so they can broaden their experiences laterally. Other than the industry benchmarking conducted by our Human Resources team, we also focus on creating a more holistic environment where our talents want to stay and grow with us. One of Cargill's core values is 'People First', both externally and internally. Every talent is unique in their needs at different stages of their lives and career. As I lead a diverse team of close to 70 people in various roles across APAC, I do spend quite a far bit of my personal time mentoring almost every one of them. - FS
For queries related to HC Group's activities and talent solutions in the APAC region, please contact:
Premesha McDonald, Portfolio Director at HC Group's Metals and Mining practice in APAC.
Douglas Ferguson, Portfolio Director at HC Group's Energy practice in APAC.