Digitalization and sustainability have revolutionized the animal nutrition industry. Companies must now satisfy consumer demands for healthy, safe, nutritious food produced in a transparent and environmentally conscious manner - despite the limitations caused by high inflation and ingredient costs. As a result, talent requirements to strengthen existing capabilities and build new offerings keep rising amid a widening generational gap.
Amid supply chains disruptions and changing consumer demands, animal nutrition and health companies have been streamlining their strategies and reorganizing their teams. German chemical company Evonik recently announced it would split its Animal Nutrition division, as part of a reorganization strategy that will involve a reduction of around 200 jobs worldwide.
One side of the business will now solely focus on producing amino acids such as the MetAMINO product that boosts growth in animals. The other division will concentrate on providing specialty nutrition services for poultry, swine and ruminant feed.

Through its network, HC Group is starting to see some companies shift their focus from larger production animals and ruminants to monogastric animals (specifically poultry) and companion animals. Emission standards and the need to cut carbon and methane emissions are also denting companies' interest in ruminants. Pet food company Purina, an American subsidiary of Swiss corporation Nestle, recently reduced its ruminant sales team by cutting 50 jobs across the United States. For its part, American animal health and mineral nutrition company Phibro has begun to grow its feed additive products into the poultry industry alongside their established vaccines.
Sustainability
The animal agriculture industry is often described as traditional and slow to embrace change. For many, turning innovative sustainability strategies into reality is not a smooth path.
But many are making headway. These include Dutch dairy company DSM's Bovaer feed additive that offers large-scale reduction of methane emissions in cattle. Another example is Irish agri-tech company Devenish Nutrition's sustainable farming initiative, Agrinewal, in collaboration with global services firm Accenture. Agrinewal measures on-farm carbon emissions and carbon sequestration to improve on-farm financial performance and animal welfare while reducing harmful emissions and increasing biodiversity. Companies like Dutch multinational dairy cooperative FrieslandCampina pursue other routes, like using guaranteed deforestation-free soy in cattle feed on their member dairy farms, digestion of manure and generating sustainable energy on their farms.
However, deploying new sustainability strategies can be risky. These strategies cost money and come with a lot of trial and error before success is achieved. Each global region requires a personalized strategy based on environmental and governmental needs. The upcoming generation of animal agriculture talent will be expected to come with a risk-taking attitude, passion and commitment to sustainable business practices.
From a talent perspective, these trends are driving more hiring demand for innovative talent who can communicate transparently and can help make product offerings and solutions more cost-effective and environmentally friendly. Focusing on feed additives to improve growth acceleration, increased feed efficiency, gut health and health maintenance can lead to ultimate environmental impact in the global production animal production.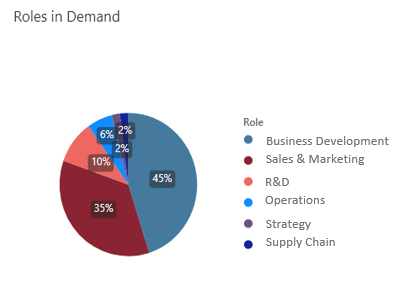 Digitalization and AI
The use of artificial intelligence (AI) and digitalization has been more popular and effective in the sector of companion animals than in the nutrition industry. These strategies, while growing at a significant rate within the United States, have yet to be fully deployed in the food sector. In an interview with HC Insider, Mike Bedford, Research Director for AB Vista, said that while some customers are open to innovation and new digitalization tools, others are still conservative and waiting to see how this trend will unfold in the coming years before they invest.
Digitalization in production animals can improve animal welfare by monitoring their behavior thanks to in-barn cameras that can help estimate body weights, analyze water consumption and gases produced, and potential diseases. With these changes, comes the need and high demand for technical talent skilled in using that data to maximum advantage for companies.

With tech companies under pressure, and layoffs totaling an estimated 250,000 over the past 15 months, now is an opportune time for the animal agriculture sector to hire talent with data analysis expertise and utilize transferable skills in a new industry to capitalize on new technologies.
Generational Gap
But talent skilled in strategic sales and technical support is in short supply. Employers have been looking for both commercial and research talent to support their refocused strategies. Companies continue to look for sales talent and leaders who can build long-term strategic relationships, as opposed to simple transactional sales. As customers look for more transparency and accountability from businesses, companies require nutritionists and scientists who can speak about products on a technical level and articulate why they are more beneficial than those sold by competitors.
But this industry has been experiencing a mid-level talent gap between junior employees and more senior talent preparing for retirement. Companies have had to hire talent with 3-5 years of experience or freshly graduated individuals from university. Investing in training and mentorship is critical to the success of the junior employees.
Companies can count on developing newer hires over time to replace more senior members. Succession planning is proving vital to train talent and maintain that trust within the network. This is a great opportunity for new talent with the drive to grow and build a career in the industry. The goal is to find skilled talent with high potential to become a long-term asset for the company and help it build a lasting reputation for the business.
Another way to address the talent shortage is to attract individuals from other industries. Every industry expertise can be learned and many skills are transferable. This could help provide diverse talent, which has been historically a challenge for the agriculture industry. Julie Abrahamzon, Commercial Director for Cargill Dairy has found that a growing majority of talent who have an interest in agriculture are female. Expanding to reach other industries and relevant talent pools can increase the diversity of thought within teams and bring new attributes and skills to the business.
HC Group's Animal Nutrition Offering
For over fifteen years, HC Group has partnered with global animal nutrition and health clients to identify and recruit business-critical talent. The agriculture community trusts our brand, and our broad network of industry connections supports us in referring and connecting strong leaders to the agriculture and nutrition space. Whether they are engaged in the manufacturing of animal nutrition ingredients or the development of new technologies, HC Group works to ensure that our clients have the access and context required to make truly informed hiring decisions.
For any query related to HC Group's activities in the animal nutrition sector, please contact:
Heather Falgout, Senior Associate for HC Group's Animal Nutrition practice in Houston.