Are commodities markets back to normal? Our Q3 Market Review finds plenty of evidence of change.
Across more than 50 pages of analysis and graphics, we delve into the latest talent trends impacting the global energy and commodities value chains - from the pivot to hydrogen and ammonia; to the need for natural language processing skills; and the appeal of Dubai's Multi Commodities Center. More than 350 talent moves show which individuals have changed roles, and where they have gone.
Special features include an in-depth interview with Jonathan Perkins, CEO at Mabanaft, about his energy transition strategy. We also report from a recent HC Insider Podcast Live Event on the world of oil derivatives, including insights from Onyx Capital Group's CEO Greg Newman, and the Chief Economist at Trafigura, Saad Rahim.
Discover the latest talent trends and people moves in global energy and commodities markets.

Here's a preview of talent trends in 10 key sectors covered in Q3 edition
1 - Liquid Fuels and Chemicals
Recent tragic developments in the Middle East have created a new uncertainty in the region. Before these events, global liquid fuels and chemicals markets attracted new participants in Q3 against a backdrop of OPEC+ supply tightening, demand from China, and record supply from the Americas.
2 - Shipping and Logistics
OPEC+ production cuts increased demand for experienced brokers with global fixing experience. The need for reliable data amid sanctions made freight analysts highly sought-after. In turbulent dry bulk markets, experts who could manage strained supply chains and make informed risk assessments were in demand.
3 - Gas and LNG
These sectors were shaped by volatility, geopolitical uncertainty, and scarcity of talent. To enhance visibility and support decision-making amid increasingly unpredictable weather, companies invested in meteorologists. London drew Asia-domiciled trading houses seeking larger returns from selling to European customers.
4 - Power and Environmental Products
Record-breaking heatwaves, a shifting policy landscape, and reduced volatility combined to produce a challenging summer for traditional power traders. Market participants also faced renewed competition for top talent from hedge funds. Despite pockets of growth, hiring in carbon markets slowed amid an uncertain policy environment.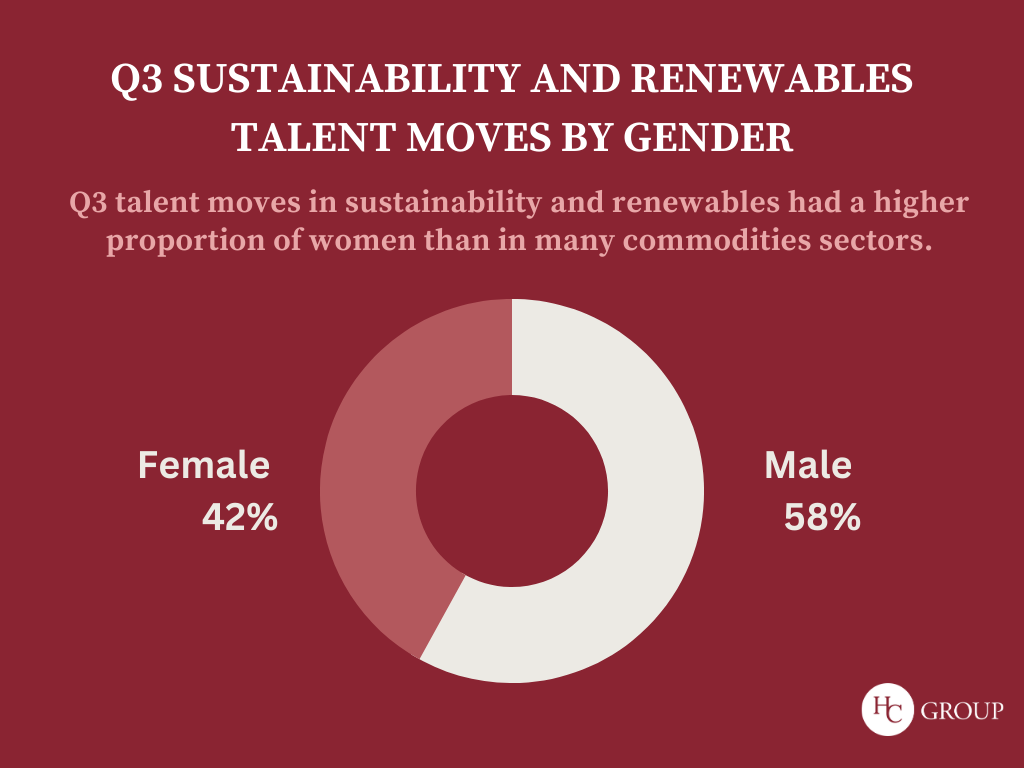 5 - Sustainability and Renewables
The scarcity of senior candidates with direct experience of nascent industries was met by a willingness among employers to hire for transferable skillsets and invest in training. Many candidates in this field are also seeking tangible commitments from hiring companies towards sustainability and building more inclusive workplaces.
6 - Latin America
Markets searching for talent included metals and animal nutrition. Recruitment was particularly strong in the region's flourishing bioeconomy, reflecting LATAM's sustainability ambitions and pivotal role in the global energy transition.
7 - Metals and Minerals
Participants including investors and start-ups found value in building new businesses amid challenging market conditions. This was particularly pronounced in battery metals and recycling, where we have seen competition for talent intensifying.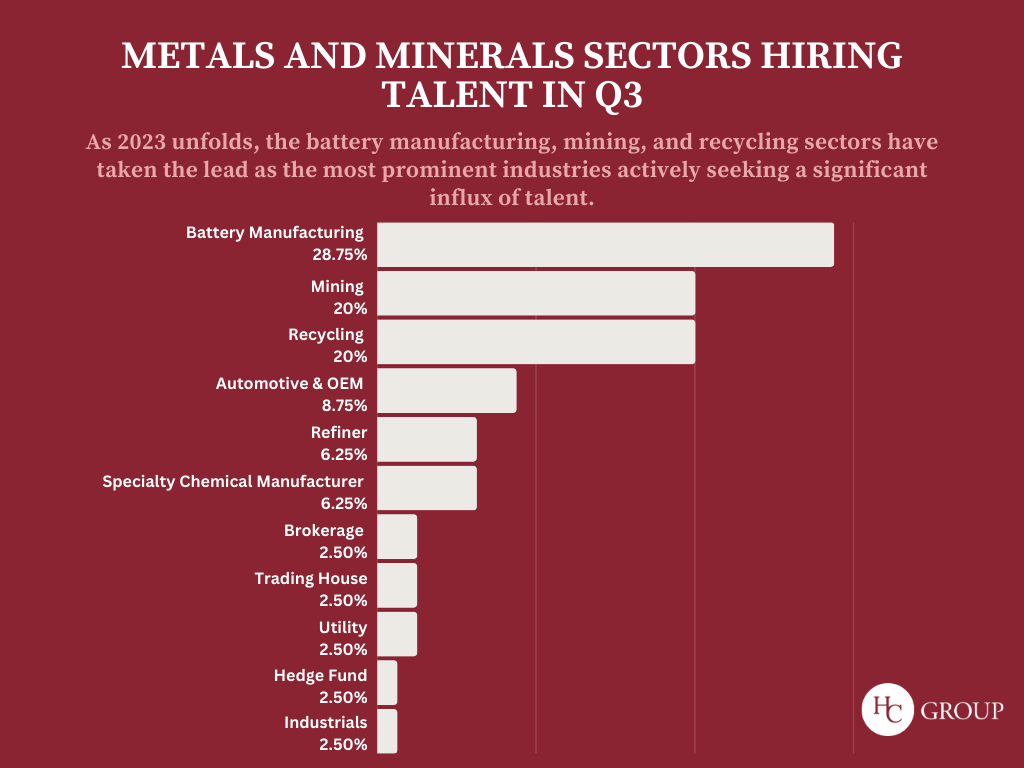 8 - Agriculture and Nutrition
While global food prices eased, new inflationary pressures included heatwaves, India's rice export ban, and Russia's withdrawal from the Black Sea grain deal. Against this backdrop, funds sought to build specialist teams amid continuing volatility, while energy companies vied with food producers for biofuels talent.
9 - Corporate Functions
Q3 saw ESG assurances and work-life balance rise as pull-factors for the best candidates, alongside remuneration. Overall, high-quality talent remained scarce for many corporate functions – with roles including risk and compliance specialists in particularly high demand.
10 - Commodity Technology and Innovation
Clients built out data science teams to help navigate the increasing complexities of global markets, optimize trading strategies, and stay ahead of the competition. Candidates who could combine knowledge of natural language processing with specific industry knowledge to help analyze pools of granular data were scarce - and in high demand.
Discover the latest talent trends and people moves in global energy and commodities markets.