Demand for talent specialized in sustainable marine fuels is rising as the shipping industry, one of the hardest sectors to decarbonize, looks for ways to reduce its environmental impact.
The market for sustainable marine fuels is in its infancy but talent demand is rising fast.
The sector is facing rising regulatory pressure to curb emissions and needs innovative new fuels.
Existing talent pools can sometimes be inexperienced and don't always directly match business needs.
Amid a talent shortage, employers are considering candidates with relevant levels of seniority and skillsets who may come from different sectors.
Ramping up Regulation
The marine sector is responsible for around 3% (1 bn tons of CO2/year) of greenhouse gas emissions globally. It has lagged other sectors with regards to decarbonization targets. This year, there have been signs of increased regulatory pressure – which is fast-becoming a key factor in recruitment.
In July, the International Maritime Organization (IMO) agreed on a revised strategy to decarbonize the global shipping industry. Under the deal, countries agreed to reduce emissions by at least 20% by 2030 (striving for 30%) and at least 70% by 2040 (striving for 80%), with the aim of reaching net-zero by 2050.

In April 2023, the EU passed the FuelEU Maritime (FEUM) law, which sets a binding target for the sector to use 2% of green e-fuels by 2034 and requires vessels to cut GHG emissions in the fuels they use by 2% below 2020 levels by 2025, 14.5% by 2035 and 8% by 2050. From January 2024, the EU Emissions Trading System (EU ETS) will be gradually extended to cover CO2 emissions from all large ships entering EU ports.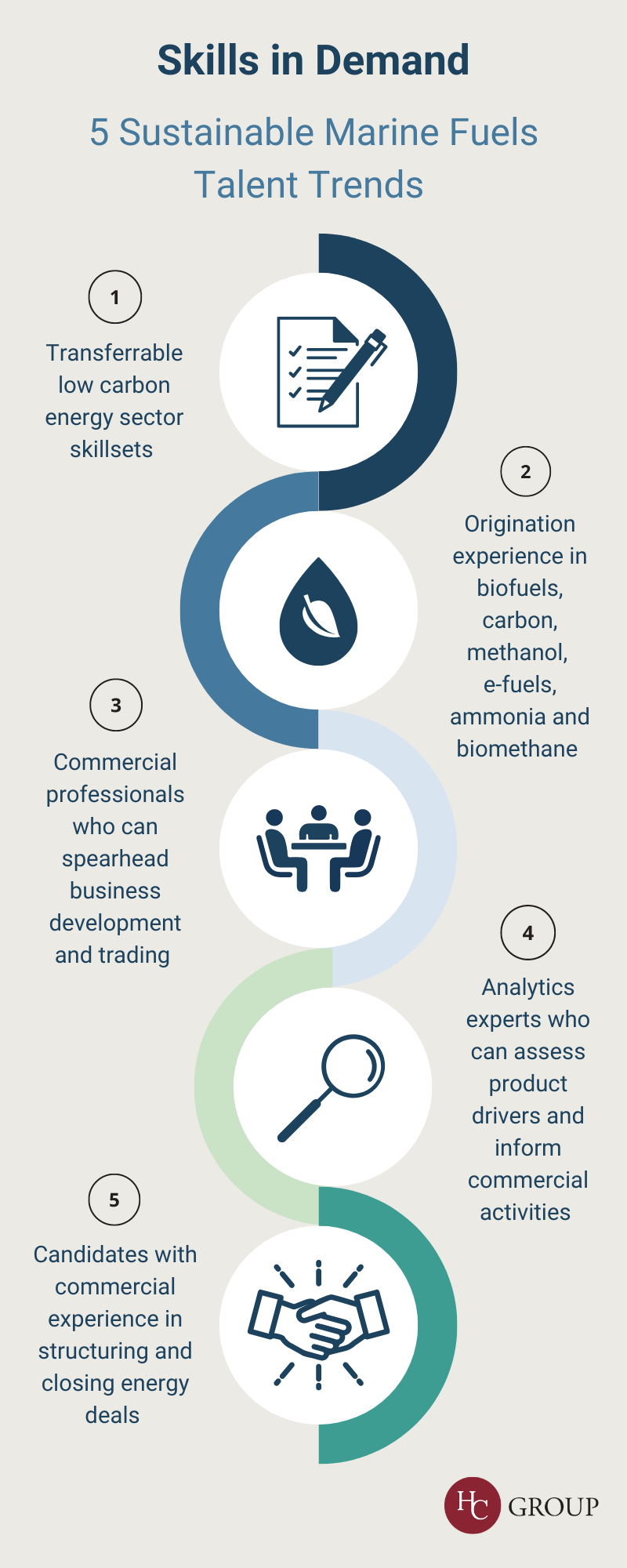 Alternative Fuels in Demand
However imperfect, new regulatory measures set the general direction for participants in the industry. The onus is now on private companies to take the lead and shape their own decarbonization initiatives, notably by investing in alternative fuels for their shipping fleet.

As a key indicator of this trend, new orders for ships fuelled by alternative products have been on the rise. In the first half of 2023, 42 vessels powered by methanol, accounting for 5.4% (109 vessels) of total new orders, compared with 39% (858 vessels) that will use LNG, according to reports. This compares with reports citing 222 new orders for LNG-fuelled ships for the whole of 2022, 35 were methanol-fuelled and 18 capable of running on hydrogen.
Green methanol, which is made either of waste biomass (bio-methanol) or hydrogen produced from renewable energy (e-methanol) is emerging as one of the most popular decarbonization options. Compared to LNG-fuelled ships which are exposed to gas price volatility (depending on the region), methanol fuel systems are described as less costly and easier both for yards to fit – on smaller vessels – and for owners to operate. On the flip side, methanol remains dependent on power price fluctuations, among other risks.

The use of biofuels is also increasing in the container ship sector, with for instance, Dutch logistics company Samskip in late 2022 signing an agreement with supplier GoodFuels, committing Samskip container ships Endeavour, Innovator, Hofell and Skatafell to run on marine grade bio-residual fuels. Ammonia is another product in demand.

While biofuels are still more expensive than traditional fossil fuel, the infrastructure for ammonia and hydrogen is not yet well-developed. The shipping industry is also exploring other technologies such as electric propulsion for short distance and small ships, and advanced propulsion systems to reduce emissions.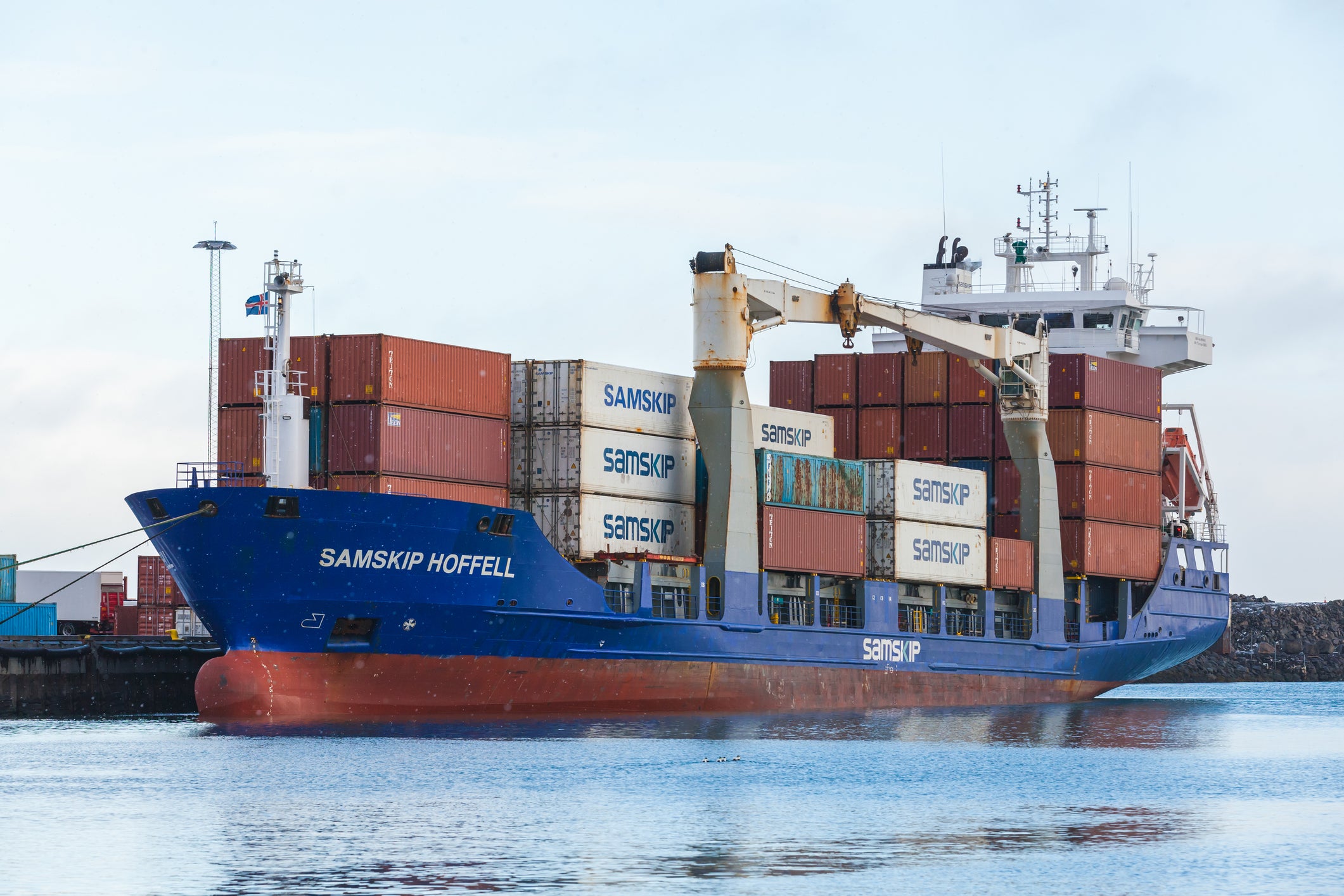 Talent to Create a Market
Finding new sources forms part and parcel of companies' talent strategies to explore various products opportunities and develop a diversified supply portfolio. HC Group is seeing rising demand for individuals with experience in green and sustainable fuels from originating biofuels, carbon, methanol, e-fuels, ammonia and biomethane. Shipping and trading experience is also a massive bonus.

At this stage, origination roles are integral to shaping companies' decarbonization strategies. To support leading participants in the shipping and bunkering sector, HC Group has been working on mandates for various roles, from Head of Decarbonization in charge of setting up a team, to Head of Origination to source green products and help build this segment from scratch.
Analytics experts are also needed to do all the research across the green market. They provide a critical assessment of the drivers for each different products, from supply and demand fundamentals to regulation. They are needed to advise their colleagues responsible for origination, business development and commercial activities including for future investment decisions.
Scarcity and Compensation
One challenge for recruiters is that the market is so small and embryonic that finding talent with appropriate knowledge and experience in these products is rare. Employers have been focusing on specific skillsets instead of the perfect career trajectory.
Some have been casting the net wider in the low-carbon energy landscape by considering individuals with experience in carbon, wind and solar power and associated commercial expertise in structuring and closing deals like power purchase agreements.
In addition, employers have preferred hiring junior talent who can then be trained. However, the reality of the market is that they often, if not invariably, end up placing much more attention on more senior candidates than initially planned. This is especially true for commercial professionals who are needed to spearhead their business development and create trading activities.
This is inevitably changing terms with regards to compensation. Senior profiles often come from energy majors like BP, Shell and others which offer much more attractive packages. For origination roles, shipping businesses can struggle to rival the level and structure of compensation offered by majors because in most cases, these professionals would typically be part of a trading division. They would benefit from a lower base salary and higher bonuses, which is harder to match in a corporate role in a shipping business. This discrepancy makes it hard to attract talent, especially as many majors have put in place significant deferred bonus schemes.
Benchmarking for Success
In a market that is still shaping up, HC Group has been approached for insights on compensation benchmarks across the spectrum of sustainable marine fuels.
Sustainable marine fuels offer many opportunities for the shipping industry despite a lot of regulatory and market risks. Navigating these risks will heavily depend on the skillsets and original vision that this rare talent can bring to these existing businesses, and how much they are willing to invest to control their own fate in a highly uncertain market.
Author: Fatima Sadouki, Senior Writer